Find your perfect family adventure this October half term in the Lake District
A destination that promises unforgettable experiences amidst stunning natural landscapes. Immerse yourselves in the great outdoors and embark on a day of thrilling exploration. With its recognition as one of the top destinations for family-friendly outdoor activities, the Lake District offers an array of exciting adventures, with Honister Slate Mine standing out as a must-visit attraction, endorsed by the renowned travel guide, Lonely Planet.
Prepare to delve deep into the heart of a Lake District mountain with Honister's Guided Multimedia Mine Tour. Equipped with a helmet, headtorch, and a sense of curiosity, you'll embark on an immersive journey through rugged tunnels and mysterious caverns. As you venture deeper into the mine, you'll uncover the captivating history of the men and boys who toiled in these very tunnels. Knowledgeable guides will breathe life into stories from generations past, bringing the rich heritage of the mine to life. From the earliest days to the present, including the remarkable story of the family who currently runs the mine, this 90-minute tour is suitable for all ages, making it the perfect adventure for families to enjoy together.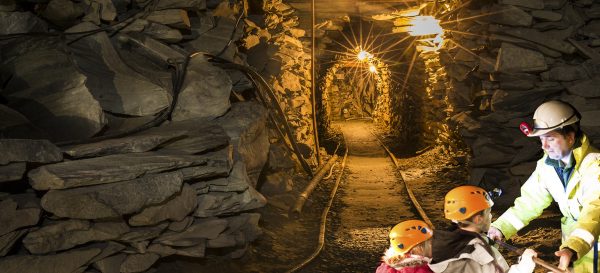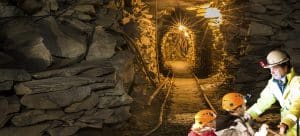 If you're accompanied by active children aged 10 and above, the UK's original and best Via Ferrata experience awaits at Honister Slate Mine. This thrilling activity follows the path of the slate miners of old and serves as a safe and exhilarating introduction to climbing. The Via Ferrata Classic requires no previous climbing experience, only a basic level of fitness and a courageous "give-it-a-go" attitude. Prepare for a day filled with fun and excitement as you combine the Via Ferrata adventure with the fascinating Multimedia Mine Tour. To maximize your experience and save money, opt for the "Classic All Day Pass" and immerse yourselves in an extraordinary day of exploration.
For those seeking a unique challenge, "Climb the Mine" offers an all-weather subterranean experience. Inside a vast cavern of past mine workings, you'll encounter vertical climbs, rope-bridge crossings, and steel ladder ascents, providing an adrenaline-pumping adventure suitable for all weather conditions.
If you're feeling particularly brave, test your courage by traversing The Infinity Bridge. Suspended high above a breathtaking gorge, this awe-inspiring high wire bridge spans an impressive 2,000 feet above the valley floor. As you step onto the bridge and gaze into the depths below, you'll feel a rush of adrenaline like never before. The Infinity Bridge proudly holds the title of the longest bridge of its kind in Britain, offering a thrilling experience for those who dare to conquer it.
From the 12th to the 27th of October, during the half-term period, every child who books an activity online will receive a delectable toffee apple, adding an extra sweet touch to their adventurous day.
Ticket prices for the Mine Tour are £49 for a family ticket, £17.50 for adults, and £9.50 for children. With a range of options available, there's something to suit every budget and ensure that families can create lasting memories together.
This October half term, venture into the enchanting Lake District and let Honister Slate Mine be the backdrop for an extraordinary family adventure. Embrace the thrill of exploration, immerse yourselves in captivating history, and create unforgettable moments amidst the awe-inspiring beauty of this remarkable region. Don't miss the chance to make this half-term holiday one for the books. Book your tickets now and prepare for a truly memorable experience in the Lake District.