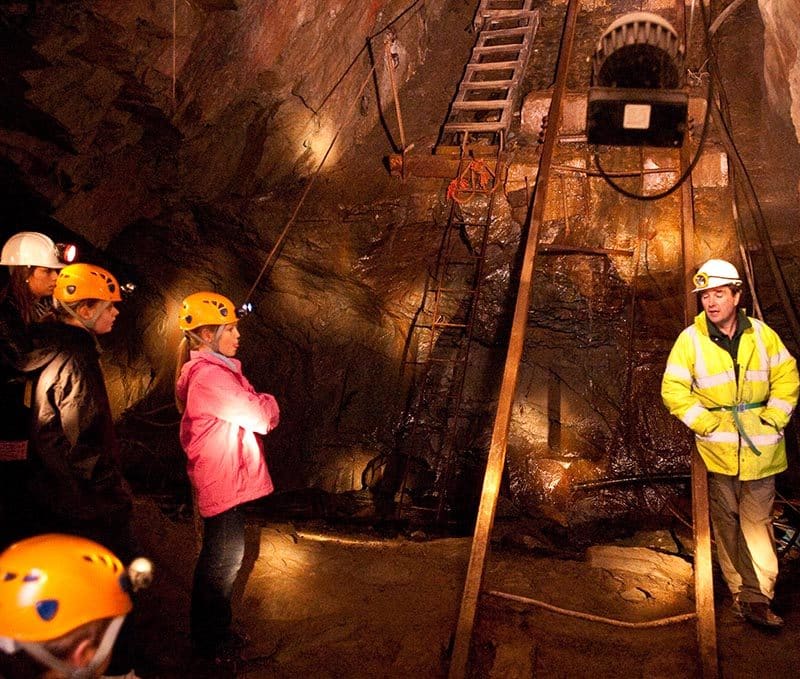 What is our mine tour?
Go Deep Underground on our slate mine tour! Learn about our 450-million-year-old volcanic green slate and how it has been mined through the ages.
The highlight of any visit to Honister Slate Mine must be our fully-guided underground tour! Experience Honister's rich mining history for yourselves.
Delve deep within our underground tunnels and caverns in the magnificent Fleetwith Pike and experience first-hand what life was like for the miners of old, listen to the story of 8-year-old John Taylor and learn how Slate mining at Honister progressed through his lifetime.  With 350 years of working history there is plenty to learn about for all ages.
Enhanced reality technology and explosive special effects will transport you back in time. Perfect for wet weather and families
Key Information
Adults £17.50, Children £9.50, Family (2A + 2C) £49.00
Adults 16+, Children age 3-15, Under 3 free!
Mine tours take approximately 90 minutes, involve uneven terrain.
Descending approximately 50 steps (with a handrail)
The tour includes illuminations and a mock explosion.
Tours operate multiple times every day
Tours take approximately 1.5 hours
Suitable for ALL ages
Please come prepared with warm clothing and sensible footwear – this is a walking tour. Safety helmets and lamps will be provided by Honister on arrival.
If you wish to arrange a private tour, or a specific custom tour to your requirements email bookings@honister.com