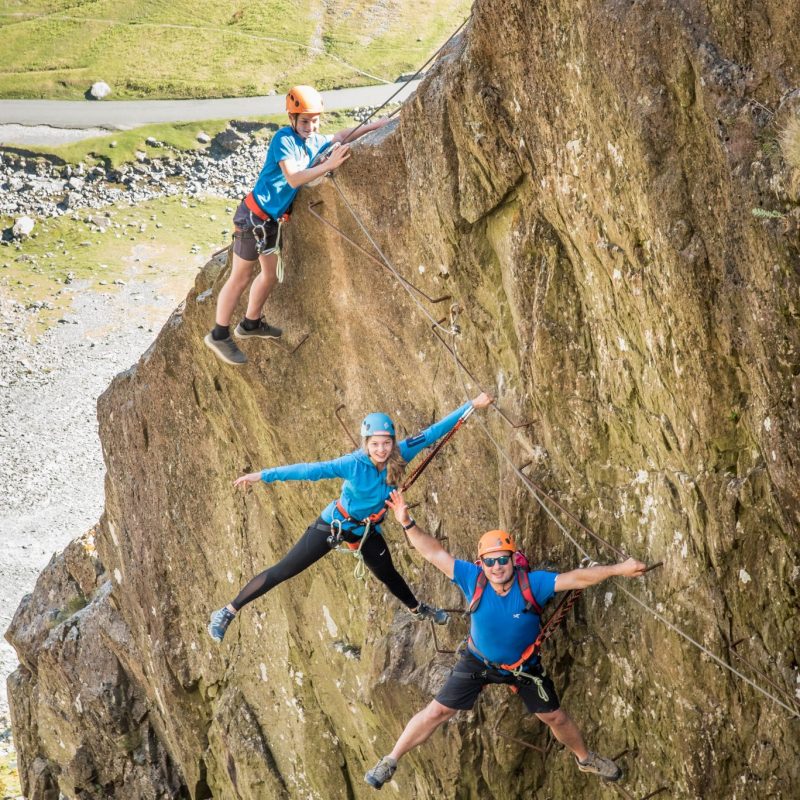 What is Via ferrata Classic?
For those seeking hours of excitement and laughter, why not book onto our award-winning Via Ferrata Classic? Suitable for ages 10 and up, this activity will take participants along the original miner's track and over the steep outer incline of Fleetwith Pike.
Though thrilling, Via Ferrata Classic is less challenging than its Xtreme counterpart; continuous cable and sturdy holds make this activity safe for all. Of course, this journey is not without its fair share of excitement and, as well as a true sense of achievement, climbers will bear witness to an abundance of natural beauty.
This is the perfect chance to step outside of your comfort zone and make memories that are sure to last.
No experience is needed to take part in Via Ferrata Classic and your ascent will be fully guided.
Please note, arrival time must be 30 minutes in advance of the time you have booked, failure to do so will result in a participation forfeit. Honister will not reimburse customers for any consequential losses or expenses.
Key Information
£45pp
Minimum age 10 years
Minimum height 1m 30cm.
10 – 15 must be accompanied by an adult 18 years +.  16 & 17 year old can go on their own.
Approximately 1.5-3 hours depending on ability.
You do not need previous climbing experience.
You will be guided by professionals and secured to the mountain by cable throughout.
Please come prepared for all weather conditions with waterproofs, gloves and strong footwear. All essential equipment will be provided by Honister on arrival.
Fully guided ascent! Step out of your comfort zone and see the best view in The Lake District.