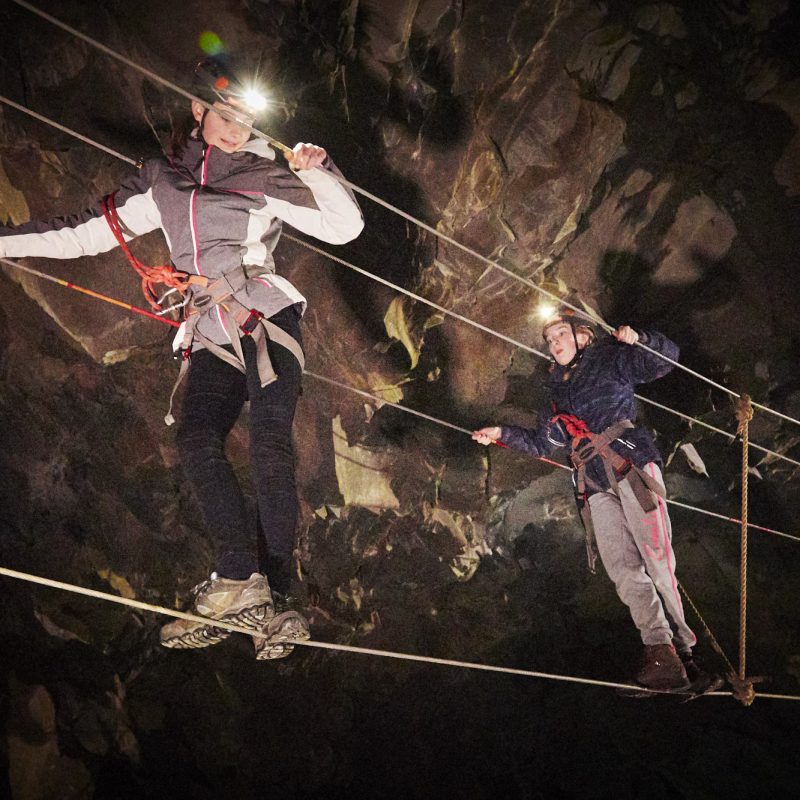 Climb the Mine
Hello!
Thanks for choosing to visit Honister Slate Mine in these unusual times, we are grateful you have chosen to book an activity with us,
Please note – it is compulsory to wear a mask at all times when visiting, please use all sanitiser stations and complete the track and trace system when entering.
In the event that you cannot attend your activity due to Covid-19 restrictions, please email bookings@honister.com informing us of this, no later than 48 hours before the start time of your activity and we will issue gift vouchers valid for 12 months for you to select an alternative date at your convenience.
An adrenaline filled adventure deep inside the heart of a Lake District mountain, 'Climb the Mine' is the only one of its type in England.
Climb the Mine follows the route of the original underground mine workings. Complete with vertical climbs, rope-bridge crossings and steel ladder ascents. This weather-proof experience sees participants led deep underground to explore a secret world of hidden passages and magnificent caverns where miners used to extract rock for roofing slates.
Then, climb up into the roof of the mine itself, delve into a previously unseen part of the cavern to experience what miners used to over 100 years ago, from a brand new perspective. The finale sees you cross the mountains underground incline stretching all the way up to the working mine. And eventually emerge triumphant to a spectacular view of one of England's highest mountain passes.
Key Information
Please come prepared for wet conditions, gloves and with strong footwear.
Minimum age is 10 years and older and 1.3 meters and taller.  
all under 16's must be accompanied by a participating adult.
All essential equipment will be provided by Honister on arrival.