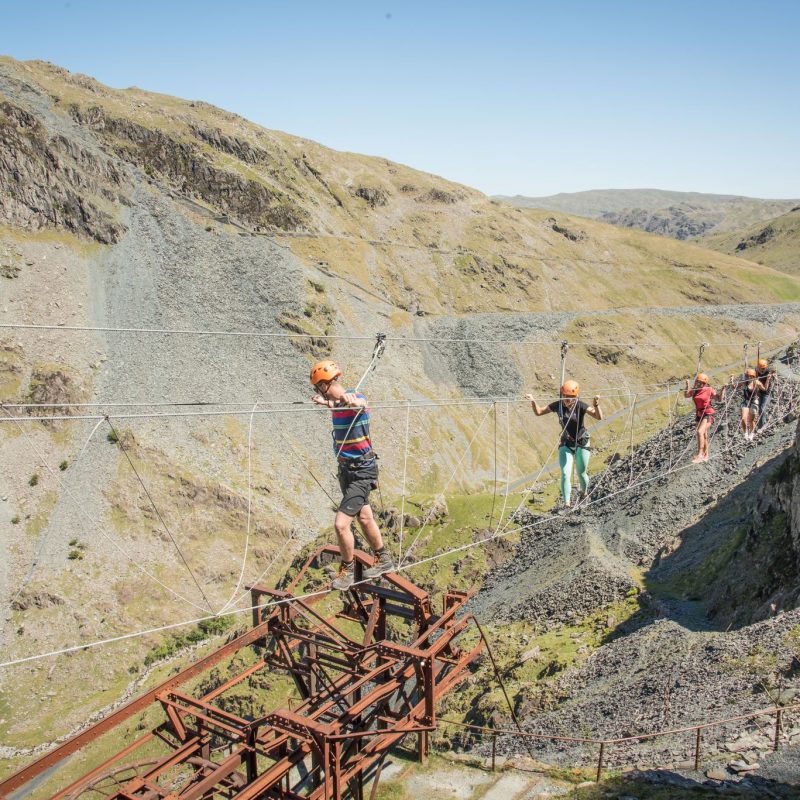 Infinity Bridge
Test your nerve as you cross the longest highwire bridge in Europe! Discover our infinity bridge below.
What is the Infinity Bridge?
Appropriately named owing to its seemingly endless length (190 metres to be precise!), the Infinity bridge at Honister is the perfect way to push boundaries and quench your thirst for adrenaline.
Suspended 1,000 feet above sea level, this heart-racing experience provides a breathtaking view of the surrounding landscape.
Tackling the longest highwire bridge in Europe is sure to provide plenty of action, laughter and a true sense of accomplishment.
Not a fan of heights? No problem! Our experienced guides can provide extra support and encouragement along the way for those who are taking on the challenge to conquer their fear. Just mention this at reception and to your guide on the day. With their help, you can conquer your fears and enjoy this unique and exhilarating way to view the Lake District landscape.
We're also pleased to offer spectators the opportunity to watch for just £7.50 per person.
If you have any questions about this or another of our activities, don't hesitate to give us a call.
Key Information
This activity takes approximately 1 hour
The infinity bridge has a minimum age requirement of 8 years and a minimum height requirement of 1.25m (4.1ft)
Maximum weight 18st/114kg, waist measurement max 43 inch, thighs max 27 inches
8 to 15-year-olds must be accompanied by an adult 18 years +
16 and 17-year-olds may cross the bridge alone
We recommend that participants bring waterproofs, gloves and sturdy footwear
All essential equipment will be provided.
By participating you acknowledge that there are photos taken of the whole group and these are distributed to everyone in the session.