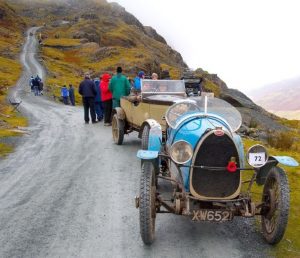 One of Cumbria's most breath-taking mountain passes is about to become a stage for a magnificent display of vintage cars, as motoring enthusiasts from far and wide gather for a unique and thrilling event next month. The picturesque Honister Pass, nestled in the stunning Borrowdale valley, will set the scene for the annual Lakeland Trials, an exhilarating motoring extravaganza that promises to test the skills of participants against the backdrop of some of the country's most dramatic scenery.
Organized by the esteemed Vintage Sports Car Club, the four-stage event will take participants on a captivating journey through the spectacular landscapes surrounding Buttermere, Keswick, and Whinlatter. However, this year, Honister Pass will take the centre stage as the sole hill climb on the route, solidifying its reputation as the most exhilarating stage of the race. With an estimated 100 vintage cars expected to participate, the sound of revving engines will fill the air as these automotive gems navigate the tortuous hairpin bends and conquer the steep, rocky verges, ascending to an astonishing height of 2,126 feet at Fleetwith Pike.
Joe Weir, Co-owner of Honister Slate Mine, expresses his excitement about the event, stating, "The dramatic climb up Honister is the pinnacle of this unique event. It's getting more and more popular every year, and there are always some great characters braving the elements in their vintage cars. It's not just about motoring enthusiasts either – we're expecting a wide range of people coming to watch this unusual spectacle throughout the day." Indeed, the Lakeland Trials captivate the imagination of not only motoring aficionados but also those who appreciate the blend of classic craftsmanship, adventurous spirit, and the stunning natural beauty that the Lake District has to offer.
If you're eager to witness this exceptional display of vintage automotive prowess, mark your calendar for Saturday, 5th November 2016, and head to Honister Slate Mine. The event will commence from 8:30 am onwards, ensuring an entire day of thrilling action and unforgettable sights. For further details and inquiries, don't hesitate to contact 017687 77230, where the friendly staff at Honister Slate Mine will be delighted to provide you with more information.
Prepare to be enthralled by the sight of these vintage cars conquering the heights and negotiating the challenging terrain of Honister Pass. The Lakeland Trials promise an extraordinary experience that combines the passion for motoring heritage with the awe-inspiring landscapes of the Lake District. Whether you're an automotive enthusiast or simply looking for a unique and captivating spectacle, this event is sure to leave you breathless. Join us as we celebrate the timeless beauty of vintage cars amidst the rugged splendour of Cumbria's majestic mountains.
Notes to Editors:
For more information, please contact:
Heather Sewell, hsewell@cumbriatourism.org / 01539 825002 / 07795 487003