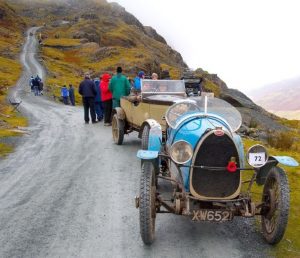 One of Cumbria's highest mountain passes will see scores of vintage cars winding their way through some of the country's most dramatic scenery for a unique motoring extravaganza next month.
Gathering at the foot of Honister Pass in the Borrowdale valley on Saturday 5 November 2016, vehicle enthusiasts will put their motoring skills to the test as part of the annual Lakeland Trials event.
The 4-stage event is organised by the Vintage Sports Car Club and takes in spectacular scenery around Buttermere, Keswick and Whinlatter.
Already renowned as the most hair raising stage of the race, Honister will this year be the ONLY hill climb on the route. Around 100 vintage cars are expected to rev their way around tortuous hair pin bends and up the steep, rocky verges to a staggering height of 2,126ft at Fleetwood Pike.
Joe Weir, Co-owner of Honister Slate Mine, says, "The dramatic climb up Honister is the pinnacle of this unique event. It's getting more and more popular every year and there are always some great characters braving the elements in their vintage cars. It's not just about motoring enthusiasts either – we're expecting a wide range of people coming to watch this unusual spectacle throughout the day."
Vehicles will be arriving at Honister Slate Mine from 8.30am onwards on Saturday 5 November 2016. Call 017687 77230 for more information.
ENDS
Notes to Editors:
For more information, please contact:
Heather Sewell, hsewell@cumbriatourism.org / 01539 825002 / 07795 487003