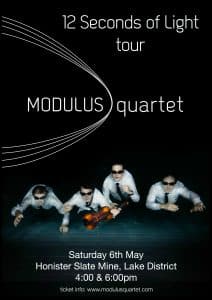 Coming soon! Saturday 6th May, 4pm and 6pm:
Modulus Quartet is a brand new contemporary ensemble embarking on its first ever UK tour promoting its debut album 12 Seconds of Light. Performing a diverse range of music by living composers, this exciting and innovative group presents music with specially commissioned film and multimedia by Diego Barraza and Tom Brown.
The passion marks their shows out as a treat for both the eyes and the ears…not to be missed. The Musician Magazine
Guests are advised to arrive 30 minutes before the showtime to allow time to get into the mine. Don't forget to wrap up warm and bring a blanket!
Café will be open for hot snacks and hot drinks. Toilets available at the House only. There are no facilities in the mine.
Make a booking:
Ticket Link :  https://www.eventbrite.co.uk/e/modulus-quartet-honister-slate-mine-may-6th-2017-330pm-and-6pm-tickets-32320672000
More Info:
Website: modulusquartet.com
Facebook: https://m.facebook.com/ModulusQuartet/?locale2=en_GB

Modulus Quartet
Jonathan Truscott violin 1
Craig Stratton violin 2
Mircea Belei viola
Nick Allen cello