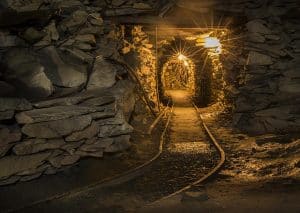 Deep within the heart of Fleetwith Pike, a volcanic mountain that has guarded the secrets of Honister Slate Mine for nearly 900 years, lies a hidden world waiting to be discovered. This October, an exciting development is set to unfold as Honister Slate Mine unveils a section of underground tunnels that has remained unseen since the 1970s. As part of the newly extended guided tours, visitors will have the opportunity to venture deeper into the original mine, exploring the enigmatic "black area" that was once utilized by miners of old. This archaeological time capsule, an untouched slice of history, will soon become an integral part of the captivating Kimberley Mine Tours.
Already renowned for its daily guided tours that navigate a labyrinth of narrow passages and majestic caverns, Honister Slate Mine is taking its immersive experience to new depths. Opening up this unexplored section of the mine will provide visitors with a unique and unparalleled insight into the hidden world beneath their feet. The addition of the "black area" will expand the tour's duration to 90 minutes, allowing guests to delve further into the rich tapestry of the mine's history.
Roland Thomson, a knowledgeable and enthusiastic Honister tour guide, expresses his excitement for the extended tour, stating, "The history and heritage of England's last surviving slate mine is immense, and opening up the mine even further will give visitors a unique insight into an underground world that has been hidden from public view for centuries. This extended tour definitely has the 'wow' factor, and I can't wait to see people's reactions as they step ever deeper into this mighty Lake District mountain."
Starting from Saturday, 22nd October, coinciding with the autumn half-term, the newly-revealed section of mine workings will be seamlessly integrated into the Kimberley Mine Tours. This development presents an unparalleled opportunity to immerse oneself in the captivating tales of miners past and witness firsthand the extraordinary engineering feats that allowed Honister Slate Mine to thrive.
Honister Slate Mine's guided tours are available three times daily throughout October and November, with reduced frequency in December and January. Prices start from £7.50 per child and £12.50 for adults, with family discounts available for online bookings. Rest assured that safety is paramount, as helmets and lamps will be provided to ensure a secure and enjoyable exploration of the underground wonderland.
Prepare to embark on an extraordinary journey through time and delve into the depths of Honister Slate Mine. Uncover the mysteries that lie within the ancient tunnels and experience the sheer magnitude of this remarkable Lake District mountain. Book your guided tour today and witness the unveiling of a hidden chapter in the captivating story of Honister Slate Mine, an experience that will leave you in awe of the ingenuity and resilience of those who came before us.
Family discounts are available online.
Tours take around 90 minutes, and safety helmets and lamps are provided.
For more information, please contact:
Heather Sewell, hsewell@cumbriatourism.org / 01539 825002 / 07795 487003