Christmas at Honister Slate Mine
Covid-19 Secure Christmas Visits
Struggling to find somewhere to explore during your Christmas break? Christmas is not Christmas without the end of year family gatherings with everyone coming together.
And although this year will be a little different for us all we can certainly make the best of a bad situation and fill Christmas with some outdoor adventure in the heart of The Lake District.
So, let us help you with our Covid secure activities able to accept family and workplace bubbles.
All our activities are outdoors and operated in a safe, socially distanced format as your safety is our top priority.
Why not take on a challenge you are all sure to enjoy by taking on one of our activities?
Honister Slate Mine has been marked Covid secure with our adrenaline filled outdoor or indoor adventures being the ultimate way to celebrate Christmas and say goodbye to 2020!
Please send all enquires for 'bubbles' of over 6 to bookings@honister.com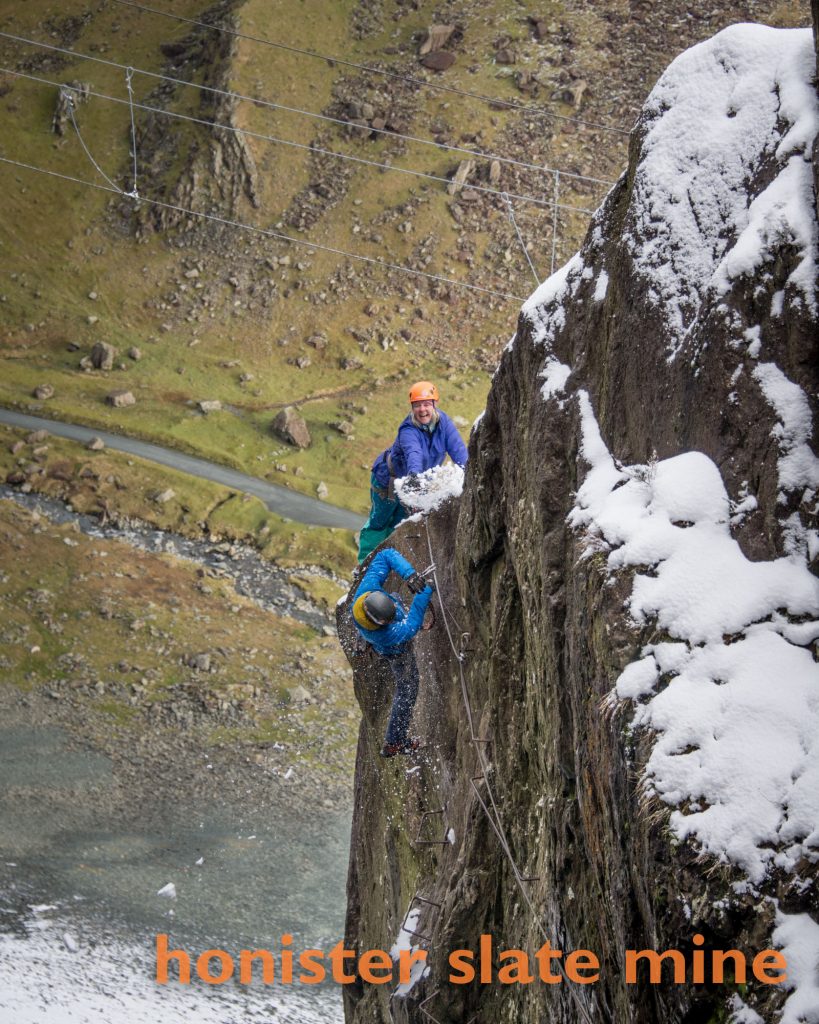 Via Ferrata Xtreme
Put your mettle to the test with us on the Via Ferrata Xtreme, climb through the clouds scaling heights you have not reached this year so far over ladders and rungs before tackling our infamous Burma bridge ahead of the ascent to the cargo net!
Duration 2.5-3 hours, £45pp – group rates available.
Climb The Mine
Hide away from the inevitable winter chill with our Climb the Mine, a subterranean adventure that follows the route of the original underground mine workings. Complete with vertical climbs, rope bridges and steel ladder ascents. This weatherproof experience sees you led deep underground to explore our secret world of hidden passages and magnificent caverns.
Duration 2.5 hours, £40pp – group rates available.
Infinity Bridge
Why not test your limits by crossing our high wire bridge? The Infinity Bridge offers breath-taking panoramas of Honister pass and the surrounding peaks. Take on the longest high-wire bridge of its kind in Britain.
Duration 1.5hours, £25pp – group rates available.
Mine Tours
Alternatively take a step back into the past and immerse yourself in our clandestine historic mines and take a walking guided tour learning about our 400 + years of history, our tours are all weather
Duration 1.5 hours, £17.50pp – group rates available.
Cathedral Working Mine Tour
See how we mine today and take a tour through our working mine and cathedral caverns on our Cathedral Tour, an after hours tour, hear about Mark Weirs determination and perseverance that ensured the legacy of the UK's last working slate mine would be there for generations to come.
Duration 2 hours, £25pp, minimum group size of 4, maximum group size 14.
Christmas Opening Hours
22nd December – OPEN 09:00 – 12:00
23th/24th/25th CLOSED
26th/17th/28th/29th/30th – OPEN 9:00 – 16:00
31st/1st – CLOSED
2nd/3rd – OPEN – 09:00 – 16:00
4th – 17th January – CLOSED
18th onwards – OPEN